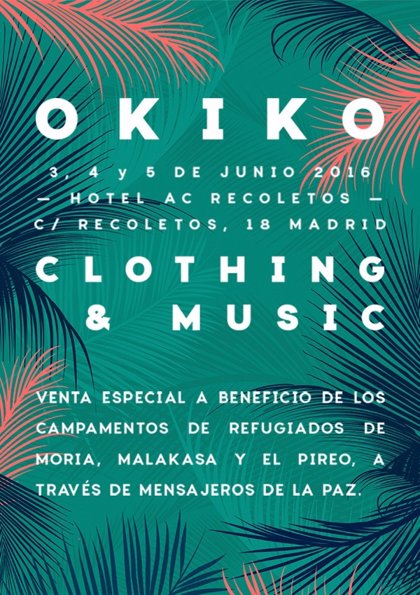 Okiko Clothing & Music Pop-Up 2016
Gala González, Cup of Couple, Miranda Makaroff, Brianda Fitz-James Stuart, Ester Belén, Anna Ponsa, Marí­a Tilve, The Petticoat, Miguel Carrizo, Inés Arroyo, Lost in Vogue y Espido Freire hacen una apuesta por la solidaridad y ponen a la venta sus prendas con fines benéficos.
El Hotel AC Recoletos y Layren Music se suman a esta iniciativa acogiendo el evento y promoviendo una serie de conciertos en directo de Archi Alpí­zar, Fredi Leis y Lois. Okiko Talents inaugura el próximo fin de semana el Okiko Clothing & Music, tres dí­as de buena música y moda solidaria en pleno corazón de Madrid, el viernes 3 (de 17-21 hrs), el sábado 4 y el domingo 5 de junio (de 11-21 hrs) en el hotel AC Recoletos de Madrid. Los beneficios serán destinados íntegramente a atender las necesidades de los refugiados de los campamentos de Moria, Malakasa y El Pireo, a través de la fundación Mensajeros de la Paz dirigida por el Padre Ángel.Otros influencers de Okiko Talents como Anna Ponsa, Miranda Makaroff, Cup of Couple y Brianda Fitz James Stuart no sólo apoyarán esta iniciativa con la donación de sus prendas, sino que además se sumarán a este ciclo de moda y conciertos con diversos DJ sets durante los 3 días.
Todo ello además será acompañado por la visita del Padre Ángel, fundador y presidente de la ONG Mensajeros de la Paz, galardonada con el premio Principe Asturias de la Concordia en el año 1994.
GRACIAS!…a los que vinisteis, a los que comprasteis, a los que nos apoyasteis desde las redes, a los que pinchasteis, a los que cedisteis vuestra ropa, a los que nos hicisteis disfrutar con vuestra música en directo, a los que nos acogisteis en el AC Recoletos, ese increíble espacio que hizo que todo fuera posible, y a Mensajeros de la Paz por despertar nuestras conciencias y demostrarnos cada dí­a que depende de nosotros lograr que el mundo sea un lugar mejor. Un GRACIAS enorme a todos por vuestro apoyo durante estos tres días.